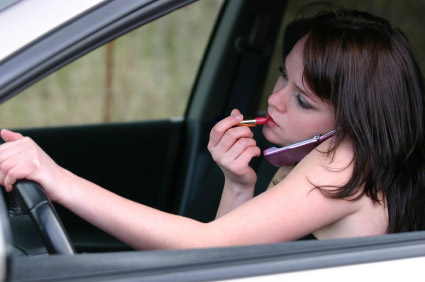 One again the BBC puts the blame squarely on drivers for killing almost 2,000 people and severely injuring thousands more in the second episode of its programme 'How Safe are British Roads?' . Shame on them!
According to the BBC we drivers are responsible for killing and severely injuring all these people by:
Failing to look
Talking on our mobile phones
Texting
Watching DVDs while driving
Putting on makeup
Not using seat belts
In car distractions
Speeding
Driving after drinking alcohol
Driving with sleep deprivation
Drug driving
Jumping red lights
Playing with our car radio
Fiddling with our Satnav
Not obeying stop signs
Tailgating
Overtaking on bends
Slow reaction time
In addition to these reasons the presenters go on to name and shame specific groups of drivers: young men for taking risks with others lives by speeding; old people for being slow to react; men for speeding; women for not looking properly at junctions.
Who causes the most danger on our roads?
Not once did the BBC mention the real menace to us all. We all know who they are. We see them all the time. Why don't the BBC tell us how many people are killed or seriously injured by pavement cycling Ipod wearing non-helmeted bicyclists?
Why are police wasting their resources filming and fining drivers just for talking on our mobiles while bicyclists freely roam on our pavements and jump red lights.
We'll be driving to work on December 11th to protest this ongoing war against the motorist.